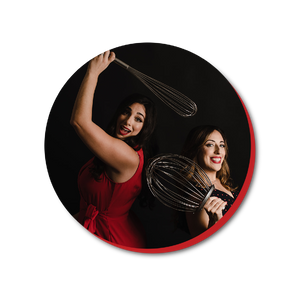 A little bit about us
Isabelle and Vanessa really like dessert… maybe a little too much. They tend to think of themselves as dessert specialists- Constantly testing, researching and eating their way through dessert nostalgia. They spend a large amount of their free time in bakeries, and indulge in their own creations as well as other desserts in the city.
Best Bakery Shop in Toronto
We are the best bakery online shop in Toronto, offering a variety of uniquely decorated and delicious cakes. Our bakery is renowned in the neighbourhood for delivering exquisite desserts for every momentous occasion, big or small.
From gourmet cupcakes and donuts to scrumptious cakes and cookies, we provide you with a massive range of dessert options to choose from.
Experience and passion is what makes us a favourite among our beloved customers.
We use the finest ingredients to prepare cakes that not only look attractive but taste heavenly. All of our baked goods are made fresh on order to deliver a delectable patisserie experience.
Plus, we keep our prices reasonable so you can get a perfect cake for all your special occasions within your budget.
#1 Bakery Shop in Toronto
Commemorate your special occasions with a gorgeous cake. The Rolling Pin is a renowned bakery shop in Toronto that specializes in baking custom cakes in all flavours and designs.
Our custom cake recipes feature innovative flavour combinations and eccentric designs. Each cake, whether big or small, is freshly baked on order and decorated with love.
This has empowered us to become the #1 choice among our client base.
Passionate
The secret behind our delicious cake is our passion for baking heavenly cakes.
Customized
We take customized cake orders. Share your ideas with us and get your cake ready.

On-time Delivery
We not only take care of the flavours and cake designs but also prioritize on-time delivery.
Affordable
Be it customized or a normal cake, we offer cakes & pastries at extremely
reasonable prices.
Frequently Asked Questions
1. Where is the bakery shop located in Toronto and what are the hours of operations?

We are located on Avenue, Toronto. You can stop by throughout the week except on Monday & Tuesday when we are closed. Our hours of operation are as follows:

Wednesday, Thursday & Friday - 10:00 AM to 2:00 PM
Saturday & Sunday - 10:00AM to 4:00PM

2. Can I change the date of my scheduled delivery order?

Unfortunately, not. We do not provide the flexibility to change your delivery date. So choose wisely.

3. Do you take designer cake orders?

Indeed. We are the best bakery shop in Toronto, renowned for delivering customized orders for every occasion. Get in touch with us today to discuss your order.

4. Can I change my order?

If it's a designer cake, we do not accept changes once you have placed your order. However, if you ask for modifications on the same day, we will happily do what's possible.